6 Best WordPress SEO Plugins in 2018 that you should try.
Search engines are developing by the day with random changes in their algorithm of operation, which is why most users often ask for SEO tips and Best SEO Plugin for WordPress that can help improve the performance of their WordPress sites. It cannot be denied that the use of Serpbook has been beneficial to website optimization, but there is more that needs to be done to achieve better results from SEO efforts. 
Best Free WordPress SEO Plugin in 2018
Search engine optimization helps you beat the competition by placing you at the top of organic search results. The good news is, with a WordPress site, you don't need to be an expert. To explore how to make it work for your WordPress, read through these 6 Best FREE SEO plugins in 2018 that you should try out:
Yoast SEO:
This is one of the most downloaded WordPress Best SEO plugin of all times. This plugin is comprehensive enough for all users, experts or not, to reliably achieve SEO.
Why is Yoast SEO the best SEO plugin for WordPress?
Yoast SEO allows you to add SEO title, meta description, and meta keywords to each post and page of your site, which are the most basic SEO strategies for any site. This plugin defines the term "all-in-one SEO plugin" since it is equipped with a wide variety of features to take care of all your SEO needs on WordPress.
Broken Link Checker
Broken links can cause significant issues on the functionality of your website, deteriorating user experience, which threatens your traffic.
This plugin allows for monitoring of links in your posts, pages, and even comments, and more to it notifies you of existing broken links on either email or your WordPress dashboard. It also lets you directly edit your website links from the Best SEO plugins for WordPress page, as a preventive measure for broken links.
All in One SEO Pack
This plugin is gaining massive attention with increased installations and ratings. The All in One SEO Pack is easy to use with very little assistance needed for beginners while still including advanced applications for experts.
This plugin has a couple of features that help you with preventing harmful bots from slowing your website page load speeds, edit robots.txt, and manage a Video XML Sitemap to be submitted to search engines. It also takes care of the navigation on your site by controlling how search spiders navigate.
SEO by Squirrly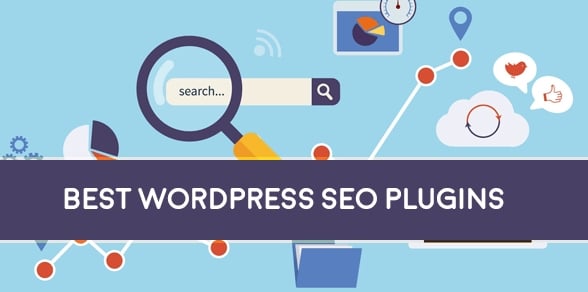 This is a WordPress plugin highly useful to new users more than to SEO experts because it gives you some visual incentives as you keep editing, as a reassurance. It helps you write content that is effective at ranking your website.
Squirrly comes packed with a fine keyword research tool that works within the WordPress editor and can aid you with determining relevant keywords, especially the popular ones that have an ongoing conversation online, for your content and site pages.
Rankie
As suggestive on the name, the Rankie is one of the best SEO plugins for WordPress tracks WordPress site rankings on search engines and updates your site's positions daily. It gives you an analysis of Keyword rankings on Google engine, giving your site significant visibility in Google SEO performance, which ultimately increases your traffic rate.
W3 Total Cache.
This plugin is concerned with the performance of your website with which it reduces download times by making use of features such as content delivery network (CDN) integration. The W3 Total Cache is also responsible for caching static copies of your content and compressions of HTML, CSS, and JavaScript.
It is highly convenient because it carefully developed and designed to work with any web hosting service, this is why the W3 Total Cache is the best SEO plugin for WordPress.
If you want to learn that how to install and setup w3 total cache then click on the hyperlink.
WP Meta SEO.
This plugin centers on the bulk edit of website metadata in a single view. Bulk editing is making changes to metadata on your website, for example, posts, pages, image optimization, and SEO links. It then gives you an SEO analysis for real-time feedback on the impact of the changes made that's why WP Meta SEO is the best SEO plugin for WordPress.
Undoubtedly, WP Meta SEO can have a significant amount of efficacy as matters saving time for which to make site-wide changes to enhance SEO Scores.
Best Free SEO Plugins for WordPress.
Without a doubt, SEO today has made a massive impression on all online users and site owners so that content consumption has been made easier and swifter. With such amazing information on the best SEO plugin for WordPress to integrate into your WordPress website, plugins should not a substitute for learning the basics of good SEO. SEO relies on getting it right, including the nitty-gritty of content optimization.
Also, Check.
How to Have an Impact on SEO By Switching to HTTPS?