What is the impact on SEO By Switching to HTTPS.
Recent Analysis has proven that around 68% of internet users fear that their data is not secured on websites in which they share.
That is why Google has proceeded further to make sure whether those data are secured. Google confirms that security is their top priority. To provide an advanced source of protection to customers, the need for HTTPS as ranking signal arose in early 2014.
On Google announcing this update, marketers across the world have started to make efforts to know whether the SSL certificate is good for SEO. And if it is going to be "YES" then which SSL certificate would be assistance for their SEO efforts.
There is a huge mystery that prevails in opting for an SSL certificate. To help you all with this and to make you all understand the importance of using an SSL certificate, I have decided to phrase this post. Would you be interested to have a look at it?
Let's Get Started!
The Need for SSL Certificate for a Better Optimization:
Though usage of SSL certificates could benefit their customers very much, website owners are worried whether installing this certificate could benefit them or not. Here are certain benefits of using an SSL certificate.
HTTPS Boosts Ranks: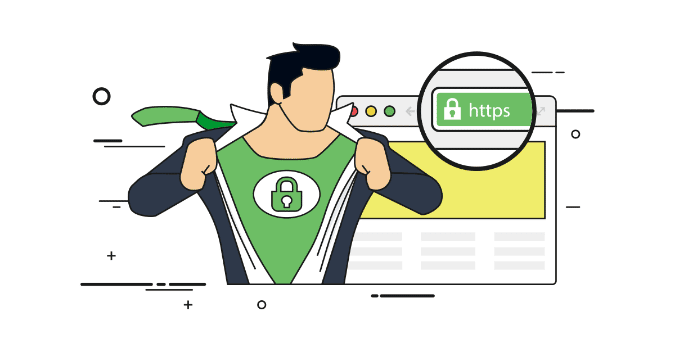 Google has confirmed the ranking boosts of HTTPS, on the other hand, the ranking boosts are expected to be noticed only a little. In fact, HTTPS is not going to play a major part in rank boosts. You could expect changes at a minimal point.
It is really hard to spot out changes that have occurred due to the installation of SSL certificate.
If ranking is going to be your major concern then, you need to concentrate on a couple of things that include the installation of SSL certificate.
Ensuring all the other stuff that boosts SEO ranking and neglecting SSL certificate alone is never going to help you anyway. It is likely to concentrate on everything parallel.
Privacy and Security:
Many proclaim that SSL certificate is effective only when the site uses effective passwords. It does not work the way that others think. Even a boring content website could benefit through HTTPS or SSL certificate.
HTTPS builds up security in different ways.
HTTPS confirms that the website is one that the server is talking to.
It preserves from man-in-the-middle attacks providing security to your clients.
HTTPS encrypts all essential data which includes URLs, browsing history and credit card numbers.
Security is one ultimate reason behind rank boost and it is recommended to have SSL certificate for both security and rank boosts.
Improves Referrer Data:
The referrer data is stripped away whenever the traffic passes from an HTTPS site to an HTTP site. This is predicted as the direct traffic on your analysis. It is because you do not know where the traffic comes from.
You have a simple solution for it when the traffic passes to an HTTPS site, the secure referral information is preserved. This is true no matter the website holds HTTP or HTTPS.
Is there any SEO concern while switching from HTTP to HTTPS?
Regarding SEO, you should be concerned when you are switching from HTTP to HTTPS. As Google has been intimating webmasters for a long time about this fact, it is not required for you to go through the motions to ensure your traffic.
Google has come up with the following practices that could help when switching from HTTP to HTTPS:
Prefer the kind of certificate you need: single, multi-domain or wildcard SSL certificate
Engage 2048-bit key certificates.
Use relevant URLs for sources that reside on the same secure domain.
Make sure to use relative protocol URLs for all other areas Avoid blocking your HTTPS site from crawling using robots.txt.
Permit indexing of pages by search engines if needed.
Restrict the no index robots meta tag.
Google has also updated Google Webmaster Tools to properly handle HTTPS sites and the reporting on them.
Track your HTTP to HTTPS migration carefully in your analytics software and within Google Webmaster Tools.
Provided it is recommended to have a look at the brief introduction about HTTP/HTTPS and some tips on switching to SSL/HTTPS before kick starting.
The following are some of the steps to be considered before proceeding.
Generate a Certificate Signing Request (CSR) on the web server.
Choose the server software used to generate the CSR.
Select the hash algorithm that you wish to use.
Enter the validity period for your Certificate.
Wrap Up:
Switching to HTTPS has good terms for your website with Google. Provided you could also harvest all the SEO benefits which include ranking on Google.
HTTPS is a way to protect your website from malicious attacks and from getting your customer data stolen. And it is always recommended as an act of securing customer data apart from ranking concern.
But when security is considered as the ultimate need for customers, Google has decided to rank websites that concentrate on security measures.
So this could help you to rank on Google. It is good that you do not spare much time in deciding whether to opt for HTTPS or not. I would suggest switching to HTTPS is an appreciable act.
If you have already initiated the step towards switching to HTTPS, then do not hesitate to proceed further. You have already stepped in exactly where you need to be and how your business needs to be projected. To your notice, installing HTTPS is instantly going to have a great impact on your traffic as people expect security as their first preference you could boldly initiate the switching process.
Have you processed it already? And if you have seen any improvement on installing HTTPS do let me know about it. I would love to hear it from you.
Read More–
Download GTA Vice City for PC Windows 7,8,10 Free Full Version Setup