BHIM a first government UPI payment system mobile application was introduced on 30th December 2016 by Prime Minister Narendra Modi. Since the government has launched its Unified Payment interface Since the government has launched its Unified Payment Interface, few banks have also lined up to release its own. BHIM stands for Bharat Interface for Money. It is a government mobile application developed by National Payments Corporation of India (NPCI).
BHIM app will be available to its user mainly for Cashless transactions and e-payments directly via banks right in one go. The App is named later Bhim Rao Ambedkar and also known as "a technology ecosystem for the poor." BHIM app is easy to use and directly linked to the bank accounts so if you transfer money or making a payment you don't have to remember all the details. You just need to open the virtual address of the payee. BHIM app is not only easy to use but also more trustworthy than other apps as the Government of India owns it.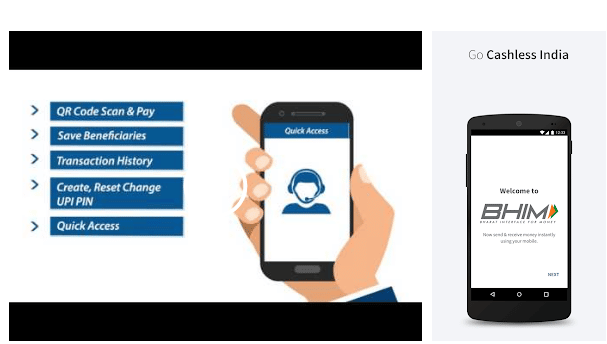 Though Paytm has already emerged as one of the most popular online payment systems amongst many such as Freecharge, PhonePe, MobiKwik and more. You and your friends can get some new cashbacks and deals using BHIM coupons while using the app for various payment purposes.
Here are 4 causes why you should use BHIM app for all your online as well as offline payments.
1. One app for all bank accounts
The unique selling proposition of the BHIM App is that the user can access all of the bank accounts from different banks from this one app only. Now the users won't have to download multiple banking apps for the multiple bank accounts. The mighty BHIM alone can take care of it.
Suppose if the user has 4 bank accounts in each UPI enabled banks than BHIM will join the banking functions of all the 4 banks. Thus the user will no longer have to stress on using multiple wallets and can also have a hassle-free e-wallet experience.
2. No need of internet connection
Now, this is an ace to the victory. It is not possible to have internet access all the time, and we all fall into some ugly situation sometimes. So here's how BHIM can save you from that situation. send money without the internet connection by simply dialing *99# from a mobile which in turn will offer you with seven options such as send money, check your balance and see your transaction history as the primary ones.
So if you fall into some unruly situation and your internet connection had passed out just give a jingle to your phone dialer and send money anywhere in India.
3. BHIM is an Indian Government Initiative.
As we all know that the BHIM is part of an active initiative by the Indian government to make a successful digital India. Therefore anyway the trust factor compared to any other privately owned UPI system apps BHIM is a step ahead.
Right now the app is nothing less than Paytm and presents several options of payment. You can pay via a telephone number, shop online by checking out BHIM option, request money from any UPI user and you can even scan a QR code while making a payment and more. BHIM app just gets better and better with each day.
As BHIM is backed by the government of India, therefore, it is naturally more trustworthy and reliable to the users while making cashless payments online.
4. Security & Authenticity.
BHIM app confirms to have a three-level authentication system which eventually makes it more secure and reliable. This three-level authentication includes the bank account to which the app is linked with, device ID or phone number and finally the UPI pin to complete the transaction process. Thus making the entire app more secured as well as hassle-free.
Saket Modi, the founder of Lucideus Tech who has been working actively on BHIM's security, says that the BHIM initiative in India will come up with better platforms of a secure digital transaction across all villages in India. BHIM is only going to get better every day as the government is actively participating in promoting digitations and cashless economy throughout the country.
BHIM has also introduced a payment rewards system while on each payment to earn some reward point which you can redeem later. Apart from that new users on BHIM can receive Rs 51 on joining an existing user can earn up to Rs. 750 per month. And with exciting BHIM coupons, you can get some attractive deals and earn some handsome cashback in your account.